Elevate Your Career with Katchr
Business Intelligence Solutions for Law Firms
The team at Katchr has been assembled over the years to deliver great tech solutions, but with an emphasis on exceptional customer service. We are focussed on ensuring that we help our customers achieve their business goals by enabling data-driven decision making.

As a Company, we pride ourselves on our ability to build and maintain strong customer relationships. At the same time we are always looking to innovate to find ways to better provide great value to customers and fulfil all their information and reporting needs.

Our core values have created a culture of open, honest communication, both internally and externally which has led to our strength in terms of both low staff turnover and high customer retention. We will continue to develop the business around those same themes.

We are transforming the way law firms work and operate and it is making performance monitoring and data driven intelligence as essential as invoicing.
Graham Moore, Managing Director
A Ten Year Success Story!
Discover the path towards becoming the top developer of performance management software in the legal industry.
The Katchr History

From SmartEye to Katchr, we've evolved in a decade, offering Express and Enterprise versions. We automated performance data for change-averse law firms, but by working with clients, we created an intuitive product that integrates well with existing systems. Excited for the future, we can't wait for the next ten years of software development!

Team Structure

Our software house operates with a relatively flat structure, like many of the best. Everyone is a respected and talented colleague, bringing unique skills to the table. This structure fosters strong teamwork and close collaboration among team members, maximising support for each other. It's a solid and stable setup that enables everyone to thrive.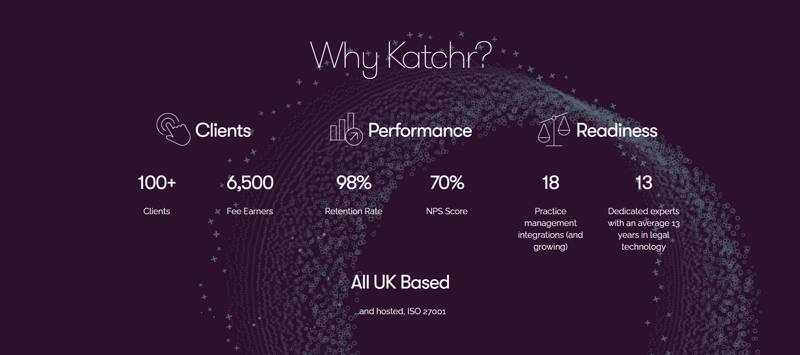 Katchr Video Resources
Video resources for product overviews and demos
Graham Moore, MD
Graham tells us more about what's under the hood at Katchr
Join our talented family
Loving data: Living life... Together.
It's all in the data!
An excellent intro to the issues law firms face and how Katchr solves them!
Katchr, legal software
Katchr is the go-to performance management solution for law firms. By improving management information, we help achieve desired outcomes faster.
We work with firms that:
Want their finance department to spend less time on gathering and organising data and more time on analysing what's going on in the firm.
Want to ensure everybody has the right tools available to effectively manage their own performance and meet their objectives.
Are commercially minded and are looking for ways to get better visibility and better control over the performance of the firm.
The Katchr team has been put together over time to create awesome tech solutions, while keeping a strong focus on top-notch customer service. We're all about helping our customers achieve their business goals through data-driven decision making.
We take pride in building and maintaining great relationships with customers, always striving to innovate and provide even better value. We have a culture of open and honest communication, both inside and outside the company, leading to low staff turnover and high customer retention.
We are changing the game for law firms by making performance monitoring and data-driven intelligence just as important as invoicing.
Work and Life Make a Winning Team
We're on a mission to make work and life a winning team! We truly believe that choosing the right career can lead to an amazing life. With Katchr, work-life balance is the secret recipe for success!
Annual Profit Share
We operate a company performance related profit-sharing bonus because we believe everyone should share in our successes!
Most of us have families and at Katchr we aim to help you live your home life, positively. We offer flexible hours and work-from-home options.
Flexible Working
Pension Scheme
Workplace contributory pension scheme that we also generously top up so you don't need to worry about the future.
For every five years you spend with working with us you get a holiday bonus of 2 additional weeks so you can go and explore your dreams, with our thanks.
Loyalty Holiday Bonus
Close-knit Team of Talented People
We are very careful who we invite to join the team and have worked hard to create a warm and friendly culture that you can enjoy every single day!If we were bakers, you would call us artisans.
About Katchr
Equal Opportunity: Katchr are equal opportunity employers and do not discriminate based on race, nationality, gender, religion, age, sexual orientation, marital status, disability, or any other protected category. We celebrate diversity and are committed to creating inclusive environments for all employees.
Privacy: By applying to any job advertised on our website or other channels, you agree that we will process your data in accordance with our Privacy Policy and you acknowledge that you have read and understood it.
Please note: in line with the UK employment law, candidates must be eligible to live and work in the UK, and upon offer, proof of eligibility will be required.